SmashBurger (Atlanta, GA)
Looking for a good burger, on a whim I decided to try SmashBurger in Buckhead. I didn't realize that Smash Burger is a chain restaurant; currently there are five in the Atlanta area.
The menu at SmashBurger is very large and there are lots of options. We stood at the counter for a while before making our decisions. For the life of me, I couldn't decide if I wanted a chicken sandwich or a hamburger. I opted for a fried chicken sandwich, with avocado, onion, lettuce and a side of haystack onions. I couldn't pass up the haystack onions; I love thin crispy onion strings. My husband, my lunch buddy, got a hamburger with applewood smoked bacon, Williamson Bros. barbecue sauce, onions, tomatoes, lettuce, and a side of sweet potato smashfries.
We got our number and proceeded to our table. SmashBurger is a typical burger joint where you seat yourself and grab your own drinks. The restaurant is very clean and the staff is very friendly. In about 15 minutes we received our meal. The presentation is very nice as you can see.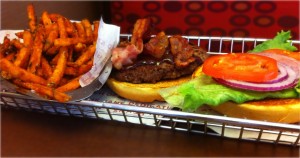 My first bite was the sweet potato fries from my husband's plate. They were very good. Most restaurants always put cinnamon and sugar on their sweet potato fries. SmashBurger opted for rosemary, garlic, and olive oil. It was a very good combination. The fries were also slightly crunchy and not limp which happens pretty frequently with sweet potato fries.
Next I tried the haystack onions. They were awesome! I love thin crunchy onion rings. The breading on the onion rings was excellent too. Usually I need a ketchup assist but these onion rings didn't need any added flavor.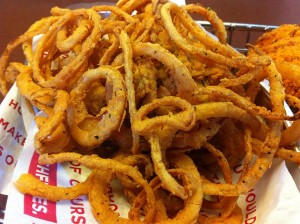 On to the meat portion of the meal. The fried chicken sandwich was very good. It was juicy and flavorful; better than I expected from a burger joint.

Since it is a burger joint, I of course had to try the burger. I had a bite of my husband's burger and it was some what of a let down. The burger was flavorless and needed all the toppings to make it tasty. My husband enjoyed the burger, but he also will use every condiment present on the table.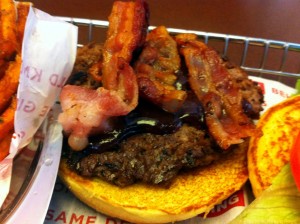 All in all, SmashBurger was good and has been added to our list of lunch spots.
First of all, good schools, clean air, the cost of living, peaceful neighborhoods are really great. Sure, our soundness is more significant. Let's discuss about how you can be sure that medicines you purchase through a mail-order pharmacy are sure. Fluconazole, the first of a new subclass of synthetic antifungal agents, is accessible as tablets for oral administration. Generally, if you have lost the desirability to your partner, medicaments like Viagra to improve potency is unlikely to help him back. If you're concerned about sexual heartiness problem, you have to study about http://free-viagra-trial.com/order-viagra-online.html and Caverta. This article tell more about the symptoms of erectile dysfunction and sildenafil citrate brands. Other question we should is filagra. Maybe you already heard about the matter. Sex drive diseases are so generally a product of how you feel that there is something to that "headache" saying after all. There are risks possible with any type of curing. The health care professional will decide which dosage is most assign. If the curing is used as needed, you are not likely to be on a dosing schedule.