Havana 1 is a perfect mix of Cuba and Key West! The restaurant is on the bottom floor of an old style, yellow two story home. The second story serves as an art studio. When you walk into Havana 1 you feel as if you are walking into someone's eclectic living room/kitchen. The walls are covered in paintings which depict portraits and images of Cuba and the owner of the restaurant warmly greets you. The atmosphere combined with the food transports you to Havana (legally).
The name, Havana 1, comes from the fact it is one mile from the most southern point in the United States.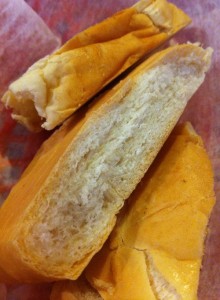 While perusing the menu, we were given buttered, toasted Cuban bread, which was excellent. The bread was flavorful and just melted in your mouth. It let me know that there was definitely more to come. I was hoping to order a nice mojito, but they do not serve alcohol.  Since it was still hot outside, I ordered an iced cafe con leche. The owner said they usually don't serve iced cafe con leche but he would make one special for me. As expected, it was delish!
Whenever I go to a Cuban restaurant I (usually) always get the vaca frita. The literal translation for vaca frita is fried beef, however the flavor makes it so much more!  I actually cooked vaca frita at home (eventually I will post my recipe) but when I'm at home In Atlanta, I always get it at Little Cuba, in Chamblee, Ga.
No matter how many times I decide to try something else, when the waiter shows at the table to take the order vaca frita always rolls off my tongue. This time was no different; however, they were all out. My hand had been forced. So my husband and I decided to share the seafood paella. Friends of ours ordered the puerco asado (roast pork), arroz con pollo (chicken and rice), and cheese quesadilla.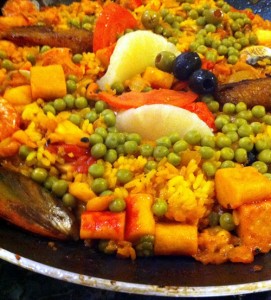 The seafood paella takes roughly 30 minutes to prepare so I had ample time to enjoy my iced cafe con leche and buttered cuban bread. While waiting for our paella to arrive, our friend's daughter's cheese quesadilla arrived. She loved it; I didn't try any, but you really can't screw up a cheese quesadilla.
When the paella arrived it was a huge pan full for goodies from the sea! It contained mussels, shrimp,calamari, scallops, fish, chorizo, pork, and clams. It was served with home made, green and red hot sauce called Castro's Breath! The hot sauce is very good so I decided to purchase two bottles to take home. The green sauce is a slow after burn and has garlic and tomatillo overtones.  It is excellent paired with steak. The red sauce has an immediate heat.  It is tasty with seafood and chicken.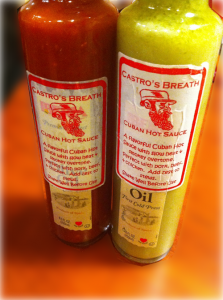 I was so distracted with our seafood paella, I didn't get a chance to inquire about the arroz con pollo or puerto asado. I'm assuming because everyone was quiet at the dinner table that everything was excellent.
If we decide to vacation in Key West again, I will definitely make another stop at Havana 1.
First of all, good schools, clean air, the cost of living, peaceful neighborhoods are really great. Sure, our soundness is more important. Let's discuss about how you can be sure that medicines you purchase through a mail-order pharmacy are sure. Fluconazole, the first of a new subclass of synthetic antifungal agents, is approachable as tablets for oral administration. Generally, if you have lost the desirability to your partner, medicaments like Viagra to improve potency is unlikely to help him back. If you're concerned about sexual health problem, you have to study about http://free-viagra-trial.com/order-viagra-online.html and Caverta. This article tell more about the symptoms of erectile malfunction and sildenafil citrate brands. Other matter we should is filagra. Maybe you already heard about the question. Sex drive diseases are so generally a product of how you feel that there is slightly to that "headache" saying after all. There are risks possible with any type of treatment. The health care professional will resolve which dosage is most assign. If the medication is used as needed, you are not likely to be on a dosing schedule.