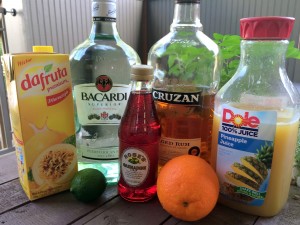 With the weather warming up, it's a perfect time to dust off those summer libation recipes. Here is a hurricane recipe with a twist. I call it Hurricane Brown! I know it doesn't follow the hurricane naming convention, but it's always good to color outside the lines once in a while.
This recipe is very easy to make! Just stir all the ingredients together in a separate container, put ice in your glasses and pour the mixture over ice. That's it! It's just that simple!

Hurricane Brown
2015-03-18 13:37:01

Serves 2
A delicious summer drink.
Nutrition Facts
Amount Per Serving
* Percent Daily Values are based on a 2,000 calorie diet. Your Daily Values may be higher or lower depending on your calorie needs.
Ingredients
2 Fluid Ounces Grenadine
2 Fluid Ounces Light Rum
2 Fluid Ounces Dark Rum
4 Fluid Ounces Passion Fruit Juice
4 Fluid Ounces Pineapple Juice
1 Tablespoon Lime Juice
1 Orange Slices, for decoration
ice cubes
Instructions
Fill the hurricane glass with ice. Mix the rums, passion fruit juice, pineapple juice, lime juice, and grenadine in an ice filled shaker. Strain into the hurricane glass. Garnish with a wheel of orange.
Sweet Home Georgia http://www.sweethomegeorgia.com/