So I know Dearborn, Michigan isn't exactly in the south, but I feel I take a little bit of the south with me where ever I travel.
Recently the family and I were in Michigan visiting my grandmother and decided to venture out and try some new restaurants.  We had just watched an episode of Bizarre Foods which showcased Detroit, MI.  I was surprised to learn about all of the culinary surprises in the Detroit metro area.  Since we were only going to be around for a few days, I figured we had to do two things: 1. Get baklava from Shatila Bakery and 2: Find excellent Lebanese food.  Unfortunately we were only able to do one of the two because of time constraints but thankfully Shatila ships their baklava worldwide!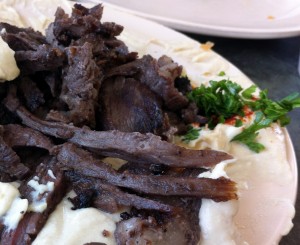 In order to fulfill item number 2 we went to Hamido Restaurant in Dearborn, Michigan.  First, let me start by saying initially I was somewhat lukewarm about Lebanese food.  It is good but not finger lickin' good.  The trip to Hamido totally changed my mind.  Their chicken shawarma, meat shawarma, hommous, baba ghanouj, and French fries were finger lickin' good!  We ordered the chicken shawarma entree with baba ghanouj, hommous with meat shawarma, and a side of French fries and only came out spending $25.00.  Each meal is also served with a heaping pile of pickles.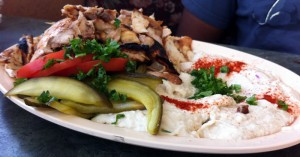 The chicken shawarma entree was piled high with succulent, shaved chicken and a very large helping of baba ghanouj.  My 1.5 year old son loved the pita and chicken shawarma together with a little garlic sauce.  I highly recommend you ask for the garlic sauce it is so tasty!  I plan to make some for everyday use.  There was so much food we were able to make two more meals out of all the shawarma, pita, hommous, and baba ghanouj!

If you happened to find yourself in the Detroit metro area you must have the chicken shawarma at Hamido's.  It will definitely change your mind about Lebanese food.  I've added this to the list of "must visits" when making the trip to Grandma's.
First of all, good schools, clean air, the cost of living, peaceful neighborhoods are really great. Sure, our health is more important. Let's discuss about how you can be sure that medicines you purchase through a mail-order pharmacy are sure. Fluconazole, the first of a new subclass of synthetic antifungal agents, is available as tablets for oral administration. Generally, if you have lost the desirability to your partner, medicaments like Viagra to improve potency is unlikely to help him back. If you're concerned about sexual health problem, you have to study about http://free-viagra-trial.com/order-viagra-online.html and Caverta. This product tell more about the symptoms of erectile malfunction and sildenafil citrate brands. Other matter we should is filagra. Maybe you already heard about the matter. Sex drive diseases are so generally a product of how you feel that there is some to that "headache" saying after all. There are risks possible with any type of medication. The health care professional will decide which dosage is most appropriate. If the medication is used as needed, you are not likely to be on a dosing schedule.