Lambert's Cafe (Foley, AL)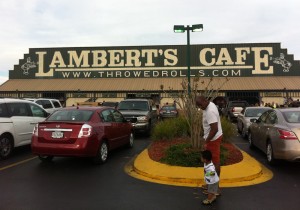 Recently, my family and I decided to vacation in L.A. (that's Lower Alabama not Los Angeles for you non-southerners). Gulf Shores Alabama is a little known vacation spot that has excellent beaches and isn't as commercialized as Panama City or Destin, FL. We stayed in Orange Beach which is located on Perdido Key.
On a rainy day, taking a break from the beautiful beach, we decided to visit the outlet malls in Foley. On our way there we saw "Lambert's Cafe: Home of the Throwed Rolls". When I first saw this I thought, "what is a throwed roll?" I was trying to figure out if this was some new way of making rolls. Sort of a pizza tossing and roll baking combination. Since we were hungry I figured why not give it a try. I am so glad I did!
Lambert's Cafe is awesome! Upon pulling up to the restaurant, I noticed there was quite a long wait; I wasn't going to let that deter me. I went ahead and gave the host my name and proceeded to visit the gift shop for my 30 minute wait. Note: Lambert's does not take credit cards, they are a cash only business. So if you are like me and rarely carry cash, they have an ATM machine on the premises. After our number was called, we got back in line to be seated. Luckily this line was only a 5 minute wait (I'm sure you are still wondering what a throwed roll is….I'm getting there).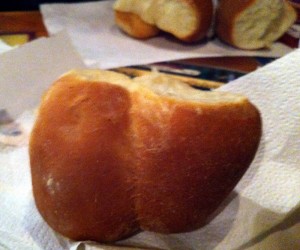 Our waitress was extra nice and explained the throwed roll concept. They actually throw rolls at you. I am not kidding and these rolls are huge! They are almost the size of a volleyball! So here's how it works they have people walking around with roll carts. Just raise your hand if you want a roll and they actually toss one your way. It's crazy. In addition to the rolls they also have pass arounds. The pass arounds are fried okra (which is tasty!), fried potatoes & onions (also tasty!), macaroni & tomatoes, and black-eyed peas (my son loved the black-eyed peas). These dishes come in addition to your meal! The menu is very extensive and is all down-home southern food, such as hog jowls, fried catfish, meatloaf, and fried chicken. Since I was near the coast I opted for fried fish and shrimp (with sides of mashed potatoes and gravy and white beans) and my husband went for the frog legs (with sides of turnip greens and candied yams). Everything was excellent except for the mashed potatoes. They were like lead! I like mine melt-in-the-mouth, fluffy. The frog legs and shrimp were huge; everything was fried perfectly! One thing about Lambert's they give you a ton of food and the prices were decent. We only spent around $35 for two seafood entrees with drinks.
In addition, to the food the staff is very friendly. The whole experience felt like I was at a family reunion. Our waitress played numerous practical jokes on the kids at our table. They loved it!
So if you are ever in Foley, Alabama I highly recommend you try Lambert's Cafe. It's an experience you'll never forget.
(Sorry for the grainy pics, I used my iPhone and there wasn't much lighting in the restaurant)
First of all, good schools, clean air, the cost of living, peaceful neighborhoods are really great. Sure, our health is more important. Let's discuss about how you can be sure that medicines you purchase through a mail-order pharmacy are sure. Fluconazole, the first of a new subclass of synthetic antifungal agents, is accessible as tablets for oral administration. Generally, if you have lost the desirability to your partner, medicaments like Viagra to improve potency is unlikely to help him back. If you're concerned about sexual heartiness problem, you have to study about http://free-viagra-trial.com/order-viagra-online.html and Caverta. This article tell more about the symptoms of erectile dysfunction and sildenafil citrate brands. Other matter we should is filagra. Maybe you already heard about the matter. Sex drive diseases are so generally a product of how you feel that there is slightly to that "headache" saying after all. There are risks possible with any type of medication. The health care professional will solve which dosage is most appropriate. If the curing is used as needed, you are not likely to be on a dosing schedule.