La Perla Taqueria (Atlanta, GA)
Scoutmob strikes again!  Looking for somewhere different to go for lunch, we once again consulted Scoutmob and decided upon La Perla Taqueria since they were offering one free taco.
Inside, La Perla has a very cool decor.  The light fixtures are made from old chip cans and the walls are a vibrant blue.  You place your order at the counter, receive a number, and they deliver your food to your table.  When ordering the menu is present above the counter.  I was surprised by how many taco variations they had.  On the menu there is a Med Mex section that is a combination of Mediterranean and Mexican food.  So for instance, they have a falafel taco and a taco with hummus.  I decided to opt for the the traditional taco menu instead.  When ordering the tacos you also have the option for corn tortillas or flour tortillas.  I opted for flour tortillas tortillas with my tacos.
We decided on the following:
Barbacoa Taco
Shrimp Asado Taco
Tilapia Taco
Prime Rib Asado
Chicken Tinga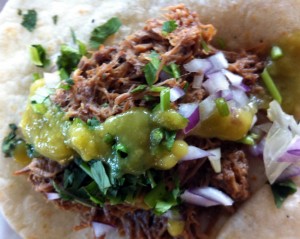 The Barbacoa Taco was topped with tomatillo salsa, onions, and cilantro.  It was very juicy and had a hint of cardamom.  I didn't particularly care for the taco because of the cardamom but my husband liked it after he added several salsas from the salsa bar.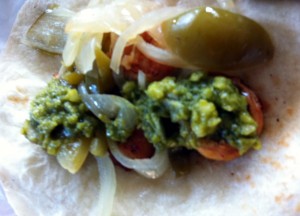 The shrimp asado taco came topped with chimichurri sauce, peppers and onions.  The chimichurri sauce had a ton of garlic but the flavor was excellent.  Larger shrimp would have been better.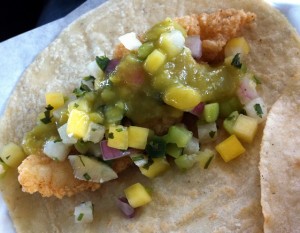 The tilapia taco contained one piece of fried tilapia filet, mango, jicama, onions, jalapenos, cucumbers, lime and cilantro.  The taco itself was pretty bland until salsas were added to it.  (you may notice a reoccurring theme here…) After the salsas it was excellent!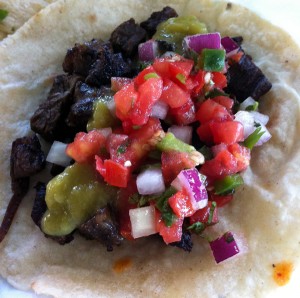 The prime rib asado taco was tender and was topped with pico de gallo.  The taco was pretty good but just like the others it was better with the salsas added to it.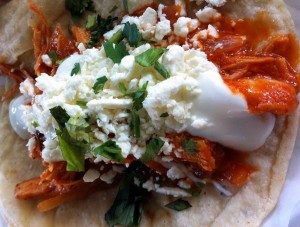 The chicken tinga taco was topped with queso, sour cream, and cilantro.  The chicken was actually cooked in a tomato and chipotle sauce.  My husband ordered this one.  He said it wasn't anything special but after the sauces, it was edible.
Unfortunately none of the tacos stood out.  They all needed a little work (salsas) to make the good/excellent.  The tacos at La Perla could be better if they just had a little bit more seasoning.
Usually when I order three tacos, I am barely able to finish two and my husband always get the 3rd.  But these tacos were rather small; the shrimp taco only had 5 small shrimp.  Needless to say we ended up ordering more food.
I decided to also get the homemade chicken tamale.  My husband decided on the guacamole, blackened salmon taco, and buttermilk fried chicken taco.

The homemade chicken tamale was large, but very dry (and also bland).  You could actually pull the masa off the chicken center.  I'm not sure if the tamale was over heated or not but it could have been a lot better.  On the other hand, the guacamole was good.  The avocados were fresh and it was nice and chunky.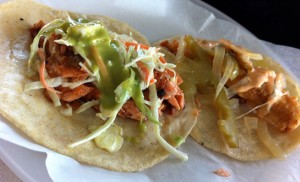 Unfortunately, the blackened salmon taco and buttermilk fried chicken taco were the same as the others.  They were missing something and needed a little work.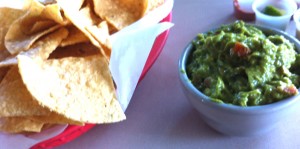 La Perla Taqueria was ok and not "The Pearl" that I thought it would be. I would try them again, but I was not impressed.
First of all, good schools, clean air, the cost of living, peaceful neighborhoods are really great. Sure, our health is more important. Let's discuss about how you can be sure that medicines you purchase through a mail-order pharmacy are sure. Fluconazole, the first of a new subclass of synthetic antifungal agents, is approachable as tablets for oral administration. Generally, if you have lost the desirability to your partner, medicaments like Viagra to improve potency is unlikely to help him back. If you're concerned about sexual health problem, you have to study about http://free-viagra-trial.com/order-viagra-online.html and Caverta. This article tell more about the symptoms of erectile dysfunction and sildenafil citrate brands. Other question we have to is filagra. Maybe you already heard about the matter. Sex drive diseases are so generally a product of how you feel that there is something to that "headache" saying after all. There are risks possible with any type of treatment. The health care professional will solve which dosage is most appropriate. If the treatment is used as needed, you are not likely to be on a dosing schedule.