Hokulia Shave Ice (Atlanta, GA)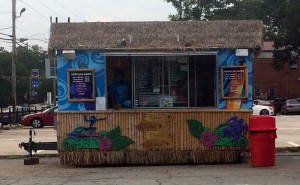 For the past few weeks every time I drive down Moreland Ave near Little Five Points, I see the Hokulia Shave Ice Truck and I think to myself "I have to try that place!" Well today was the day! While on our way to Earth Fare in Emory Pointe (If you haven't been to Earth Fare yet, you have to go! It's awesome!), we decided to make a pit stop at Hokulia and it was well worth the wait! The truck is located at 299 Moreland Ave NE, right next to the Sherwin Williams paint store.
There are three sizes to order from Short Board ($4), Long Board ($5), and Big Kahuna ($6) and several add-ons you can place on top of the shave ice. To give you fair warning, the shave ice are huge and there are some many flavors to choose from. We ended up splitting the Short Board and got the Kids (keiki) Rainbow which consisted of Tiger's Blood, Blue Raspberry, and Mango flavors. I decided to keep it simple since this was our first time at Hokulia's.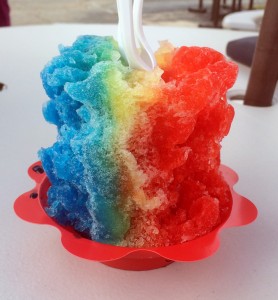 Our order was up real quick, so we decided to grab a table and dive in. The table has these really neat holes in it so you can put your shave ice in the hole! It was perfect! My son loved the Blue Raspberry flavor and repeatedly told me "No, Mommy" when I encroached on the blue ice. The best part about the shave ice was that the flavor penetrated the entire giant snowball! Usually when I get a shave ice, invariably there is never enough flavor and I end up with a dry piece of ice at the end; not at Hokulia's.
Hokulia's was a nice treat to beat the Atlanta heat and I will definitely be back!