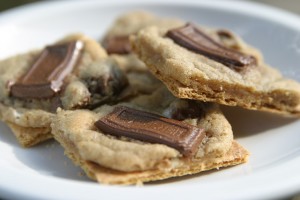 Who knew all it would take is a government shutdown and being furloughed for me to have enough time to do another blog post?  Since I have so much time on my hands, I decided to try some new recipes.My husband loves anything s'mores related; ice cream, beverages,
Pepperidge Farm "goldfish"
, and even actual s'mores.  If it has s'mores in the title he's all for it.  So I was perusing
Pinterest
and found the following recipe:
S'mores Cookies
.  This recipe was perfect for my husband and with a few modifications it was perfect!
S'mores Cookies
Ingredients
3/4 cup unsalted butter, softened
1 cup brown sugar, packed
1/2 cup granulated sugar
2 large eggs
1 teaspoon vanilla
1 teaspoon baking soda
1/2 teaspoon sea salt
1 teaspoon cinnamon
2 1/2 cups flour
1/2 cup semi-sweet (or milk chocolate) chocolate chips
1 cup mini marshmallows
4 regular sized Hershey's bars, broken into pieces
2-3 packages graham crackers, broken into squares