Desta Ethiopian Kitchen (Atlanta, GA)
Notice
: Undefined index: post in
/home/sweethome/public_html/wp-content/plugins/awesome-ads/awesome-ads.php
on line
194
Strict Standards
: call_user_func_array() expects parameter 1 to be a valid callback, non-static method adsensem::filter_ads() should not be called statically in
/home/sweethome/public_html/wp-includes/class-wp-hook.php
on line
298
Strict Standards
: Non-static method adsensem::filter_ad_callback() should not be called statically in
/home/sweethome/public_html/wp-content/plugins/adsense-manager/adsense-manager.php
on line
198
Strict Standards
: Non-static method adsensem::filter_ad_callback() should not be called statically in
/home/sweethome/public_html/wp-content/plugins/adsense-manager/adsense-manager.php
on line
201
Strict Standards
: Non-static method adsensem::filter_ad_callback() should not be called statically in
/home/sweethome/public_html/wp-content/plugins/adsense-manager/adsense-manager.php
on line
201
Notice
: Undefined index: ad_adsense in
/home/sweethome/public_html/wp-content/plugins/adsense-manager/class-generic.php
on line
41
Notice
: Undefined index: ad_adsense in
/home/sweethome/public_html/wp-content/plugins/adsense-manager/class-generic.php
on line
41
Notice
: Undefined index: ad_adsense in
/home/sweethome/public_html/wp-content/plugins/adsense-manager/class-generic.php
on line
41
Notice
: Undefined index: ad_adsense in
/home/sweethome/public_html/wp-content/plugins/adsense-manager/class-generic.php
on line
41
Several years ago my husband and I were introduced to Ethiopian food and fell in love with the flavor and experience. Our favorite Ethiopian restaurant in the Atlanta area is Desta Ethiopian Kitchen. We go at least once a week for lunch or dinner. Our 14 month old even loves Ethiopian food!
Every time we go we usually get the same thing with a few variations. On our visit this afternoon we opted for Fish Tibs with Shiro, Zil Zil Tibs, meat sambusas, and hot tea. Ethiopian food can be spicy. Most of the dishes at Desta have jalapenos. So if you don't like spicy, Ethiopian isn't for you.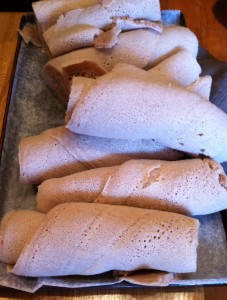 When dining at an Ethiopian restaurant, you use your hands to eat. The process is as simple as taking a small piece of injera and using it to grab food from a central plate shared by all. Injera is an Ethiopian flat-bread which has a lightly spongy texture. So when you sit down to the table you won't find silverware because you are supposed to use your hands.
On this afternoon we had our usual waitress, who is phenomenal. She is very friendly and always remembers our order. I ordered a hot tea. Which is a usual black tea, however, the water is flavored with cloves. The added spice to the tea is excellent and very nice on a cold winter day.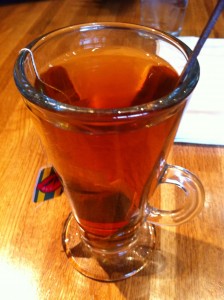 After I prepped my tea, our meat sambusas arrived. The sambusas look like fried spring rolls filled with ground beef, jalapenos, and spices such as berbere. Each sambusa is perfectly fried; crunchy on the outside and steamy on the inside. I always use sambal (red pepper hot sauce) with my sambusas. It just makes them extra tasty.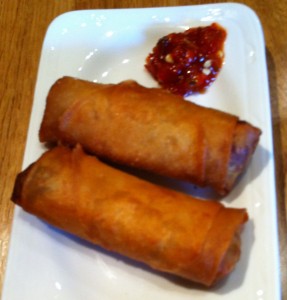 After our appetizer, our main dishes arrived, the fish tibs and zil zil tibs. The zil zil tibs are strips of prime rib sauteed in butter and herbs with red onions and jalapenos. The dish is served with sambal, spicy mustard, and berbere spices. I'm not a fan of mustard so I only eat the zil zil tibs with sambal. The zil zil tibs at Desta are perfectly cooked. They are slightly crispy but still tender.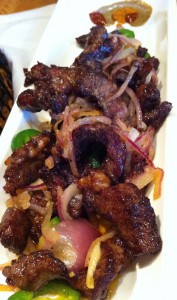 The second dish is one of my favorites which is fish tibs with shiro. The fish is pan fried tilapia that has been cut into chunks and served with red onions, tomatoes, and jalapenos. The fish and vegetables are layered on top of shiro. Shiro is a combination of berbere spices, chickpea flour, ground onions, and garlic. The combination of onions, shiro, jalapenos, and tilapia make for a dish with very well rounded flavor.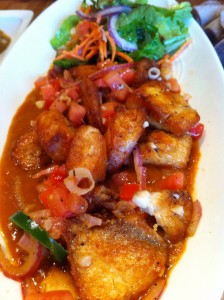 If you are in the mood to try Ethiopian food, Desta is the place for good food and good service.
First of all, good schools, clean air, the cost of living, peaceful neighborhoods are really great. Sure, our health is more significant. Let's discuss about how you can be sure that medicines you purchase through a mail-order pharmacy are sure. Fluconazole, the first of a new subclass of synthetic antifungal agents, is approachable as tablets for oral administration. Generally, if you have lost the desirability to your partner, medicaments like Viagra to improve potency is unlikely to help him back. If you're concerned about sexual soundness problem, you have to study about http://free-viagra-trial.com/order-viagra-online.html and Caverta. This article tell more about the symptoms of erectile disfunction and sildenafil citrate brands. Other question we should is filagra. Maybe you already heard about the question. Sex drive diseases are so generally a product of how you feel that there is something to that "headache" saying after all. There are risks possible with any type of medication. The heartiness care professional will resolve which dosage is most appropriate. If the medication is used as needed, you are not likely to be on a dosing schedule.