Shuck 'N' Dive Cajun Cafe (Fort Lauderdale, FL)
I know your first thoughts are, "Fort Lauderdale isn't in Georgia". That is very true, however, I am in Florida so consequently so is my blog.
My husband and I have been to the Fort Lauderdale/Miami area on several occasions and have frequented many restaurants. This time we decided to try Shuck 'N' Dive Cajun Cafe. I really wished I hadn't.
Shuck 'N' Dive is a New Orleans themed restaurant/bar that plays mostly zydeco music and has New Orleans paraphernalia around the entire restaurant. The staff was very friendly and the place seemed more like a bar than a restaurant, but I was keeping an open mind.
In order to get a fair representation, I ordered the smoked wahoo dip as an appetizer. On the menu the dip is supposed to come with tortilla chips, saltines, roasted red peppers, carrots, chopped onions, celery, and jalapeños. We did not receive the saltines, instead the dip arrived to the table shrouded in tortilla chips. The tortilla chips were rather stale and did not stand up well to the weight of the smoked wahoo dip. Despite the lack of an adequate holder for the dip, it was very flavorful and had the right portion of mayonnaise.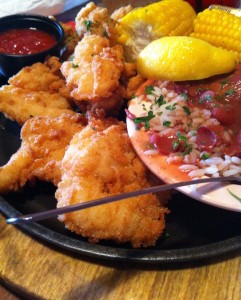 For lunch I ordered the 1/2 and 1/2 fried, butterflied shrimp and fried oysters with hush puppies, corn on the cob, and red beans and rice. Where do I begin? The batter for the fried shrimp and fried oysters was so thick you could peel it off – I suppose in retrospect I could have used the batter as a delivery mechanism for the wahoo dip. The shrimp and oysters tasted frozen, eventhough the restaurant is located right on the ocean. In my mind, this is an inexcusable offense. The corn on the cob was fresh and not over cooked. My son gave the red beans and rice two thumbs up. They contained andouille sausage and Tasso ham. The sausage was very mild for a New Orleans restaurant. The rice was firm and not mushy and the beans were very tasty. The hush puppies were somewhat bland and could use added jalapeños or seasoning.
All and all, Shuck 'N' Dive was definitely a disappointment and only lived up to half of its name. It shucked.
First of all, good schools, clean air, the cost of living, peaceful neighborhoods are really great. Sure, our health is more great. Let's discuss about how you can be sure that medicines you purchase through a mail-order pharmacy are sure. Fluconazole, the first of a new subclass of synthetic antifungal agents, is approachable as tablets for oral administration. Generally, if you have lost the desirability to your partner, medicaments like Viagra to improve potency is unlikely to help him back. If you're concerned about sexual heartiness problem, you have to study about http://free-viagra-trial.com/order-viagra-online.html and Caverta. This fabric tell more about the symptoms of erectile malfunction and sildenafil citrate brands. Other problem we must is filagra. Maybe you already heard about the matter. Sex drive diseases are so generally a product of how you feel that there is something to that "headache" saying after all. There are risks possible with any type of medication. The soundness care professional will solve which dosage is most appropriate. If the treatment is used as needed, you are not likely to be on a dosing schedule.