King Seafood Market & Restaurant (Marathon, FL)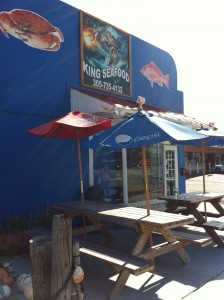 On a whim on our way to Key West, Florida we decided to stop at King Seafood Market & Restaurant in Marathon, Florida for some fresh fish and shrimp. I ordered the fried shrimp basket and my husband had the fried lobster tacos. My basket contained 7 shrimp and came with french fries and cole slaw. The shrimp were very large, fresh, and had excellent flavor. The French fries were crispy and were an excellent complement to the shrimp.
The lobster tacos were more like lobster burritos because they were so large. The tacos contained pieces of fried lobster, cheese, tomatoes, and lettuce. My husband just ended up eating the taco filling since they were so big.
Friends of ours got the lobster and rice, which was yellow rice mixed with lobster meat. The yellow rice was cooked with red onions which gave it a very pungent flavor. The lobster was overcooked and very chewy. I think this dish would be better with the shrimp.
King Seafood Market & Restaurant was a delightful stop over on our way to the southernmost tip of the U.S.