Key Lime Pie Company (Key West, FL)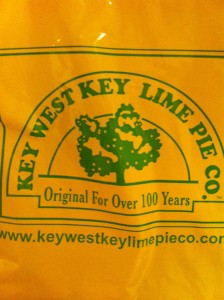 When in Key West, Fl there are a few musts. One is visit the southernmost point of the United States, the other is to have a slice of key lime pie.
For our slice of key lime pie we decided to visit the Key Lime Pie Company. This store sells more than just key lime pie. They have chocolate dipped key lime pie slices, ice cream, Tortuga Rum Cake, key lime cookies, key lime juice (of course!), and much more.
Since I was there for pie, I stuck to my guns until I was presented with key lime pie options. They have original key lime pie, pineapple coconut key lime pie, raspberry key lime pie, and mango key lime pie. I opted to try the original (which is what I was there for) and the pineapple coconut. The original was pretty good, I have had better; I think it just needed a tad bit more tartness. Now the pineapple coconut was out of this world! It was a heavenly mixture of coconut cream pie and key lime pie. We decided to get two slices and be on our way.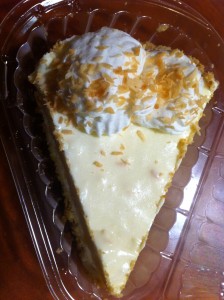 So when in Key West, visit the Key Lime Pie Company for a slice of heaven.
Oh and just so you know, I did divert a little. I also picked up a key lime body scrub.
First of all, good schools, clean air, the cost of living, peaceful neighborhoods are really great. Sure, our heartiness is more important. Let's discuss about how you can be sure that medicines you purchase through a mail-order pharmacy are sure. Fluconazole, the first of a new subclass of synthetic antifungal agents, is accessible as tablets for oral administration. Generally, if you have lost the desirability to your partner, medicaments like Viagra to improve potency is unlikely to help him back. If you're concerned about sexual health problem, you have to study about http://free-viagra-trial.com/order-viagra-online.html and Caverta. This fabric tell more about the symptoms of erectile disfunction and sildenafil citrate brands. Other matter we should is filagra. Maybe you already heard about the question. Sex drive diseases are so generally a product of how you feel that there is something to that "headache" saying after all. There are risks possible with any type of medication. The health care professional will resolve which dosage is most confer. If the therapy is used as needed, you are not likely to be on a dosing schedule.